What's Up This Week: Testing New Electric, The Best & Worst of the Wood, & Assessing What's Left PLUS: Pretty Springtime View from the Sunroom!
Moving right along… It's been our first full week without our contractor at the house full time. We're getting a ton of stuff organized, making a million different lists to sort out what needs to be done before inspections, before we move in, before Jack pops out a baby, before we completely lose our minds, etc.
We could obviously say this every week, but we feel closer to the "finish" than we ever have, although all these lists can be very humbling when we remember that one of us can't carry heavy things or be around too much dust and fumes, and the other one still has a pesky full time job that has to be attended to. Sleep is distant dream, but at least the Springtime weather makes for a pleasant view out the new sunroom windows.
What's Been Happening
Is This Thing On?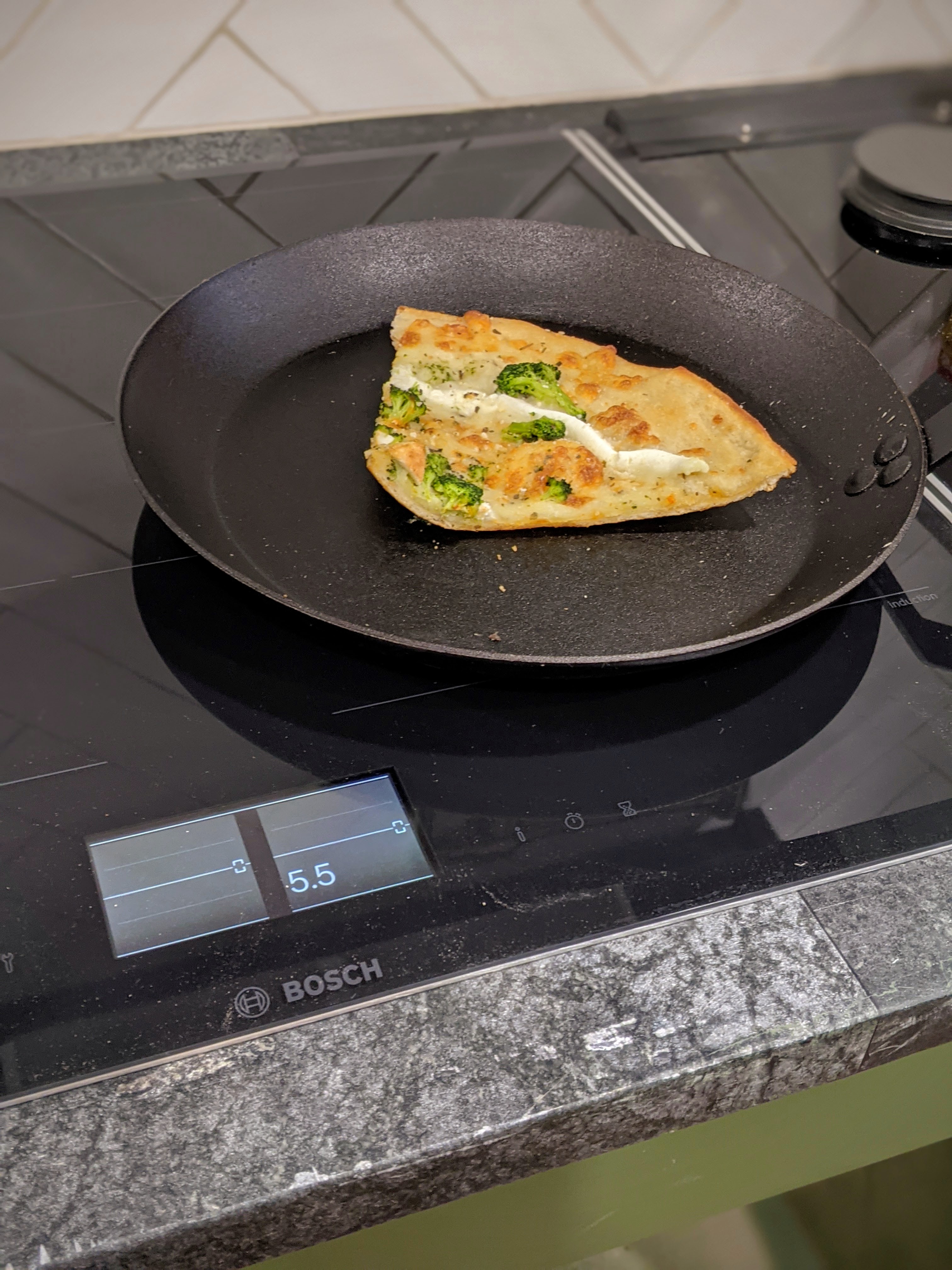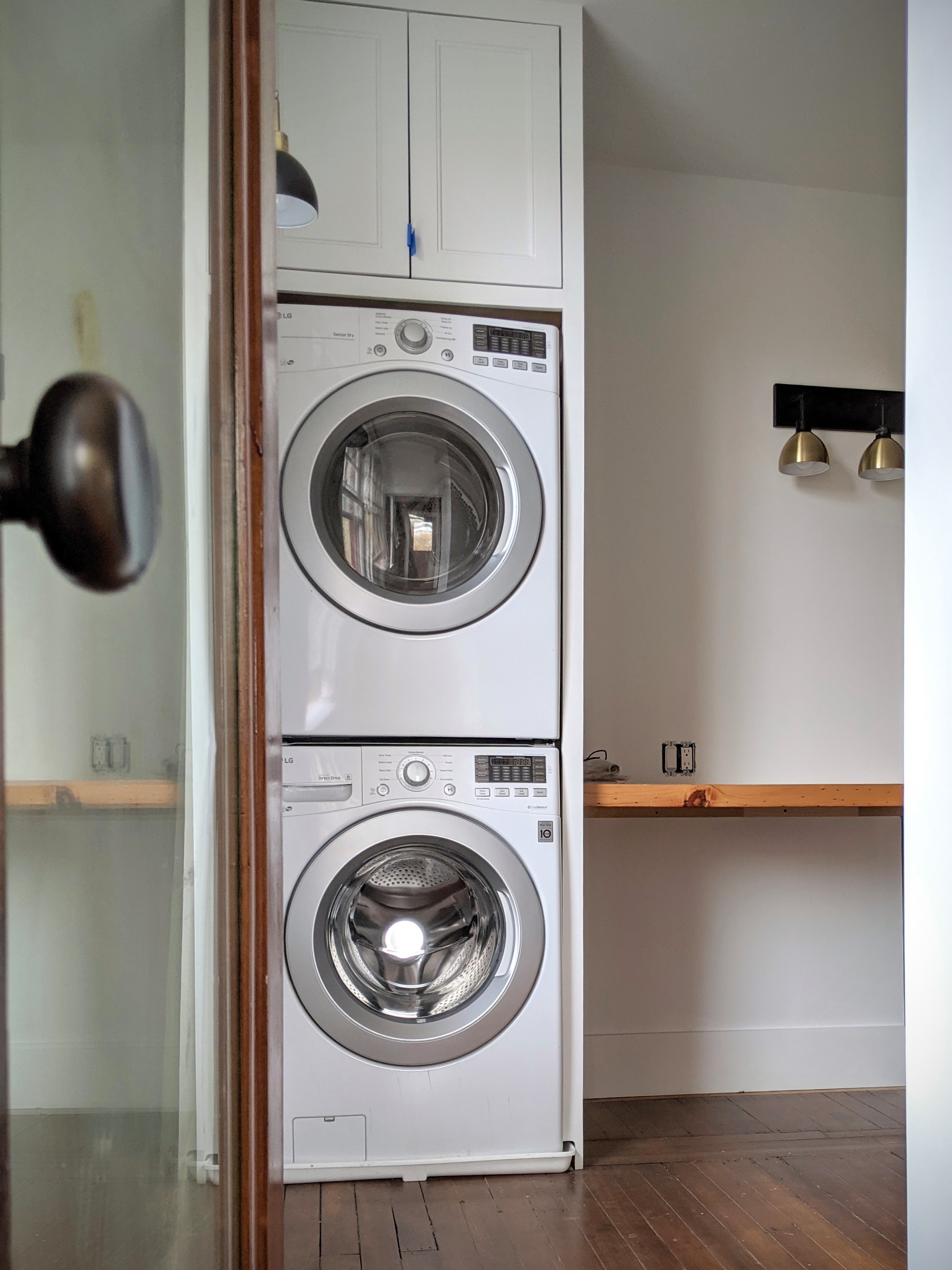 Electrician dad was back at it again over last few days, and seeing all the rooms with functional lighting has been disproportionately exciting. While we tried to pay respect to Ms. Charlotte's maturity with the trim work, moldings, and other architectural features, it was finally time to bring her into the 21st century with some updated light fixtures, as well as some fancy new cooking appliances.
Jim's favorite: the new Bosch induction cooktop that was finally installed after having it shipped from overseas a year or two ago. We're going to need the kids to learn German so we can read the manual, but our quick "heat up a slice of pizza" test was nein problemo.
Also since our last post, the washer and dryer were installed in the laundry room, so for the first time in the history of Ever, we're excited to toss in a load of laundry. This one is a major upgrade for us, since our current setup is in our basement, down a questionable flight of stairs we won't even let the kids use. After they learn German, we'll have them work on that special language of laundry hieroglyphics so they can sort the whites and delicates.
Oh, So THAT's What This All Looks Like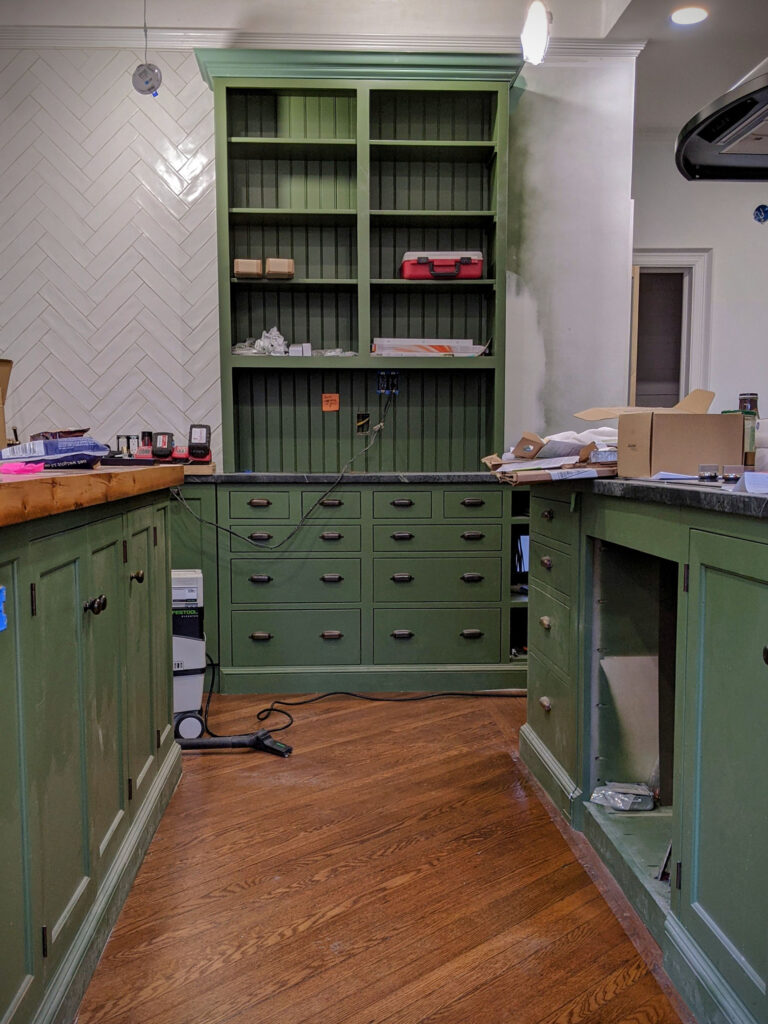 For the first time this past week, we also got to see the refinished original wood floors with the painted kitchen cabinets and the painted paneling in the first floor office/den. The floors were refinished about a year ago when we hilariously thought we were much closer to completion (silly, us), but they've been pretty much covered up since then, so seeing how everything finally looks together has been fun.
More. Dirty. Wood.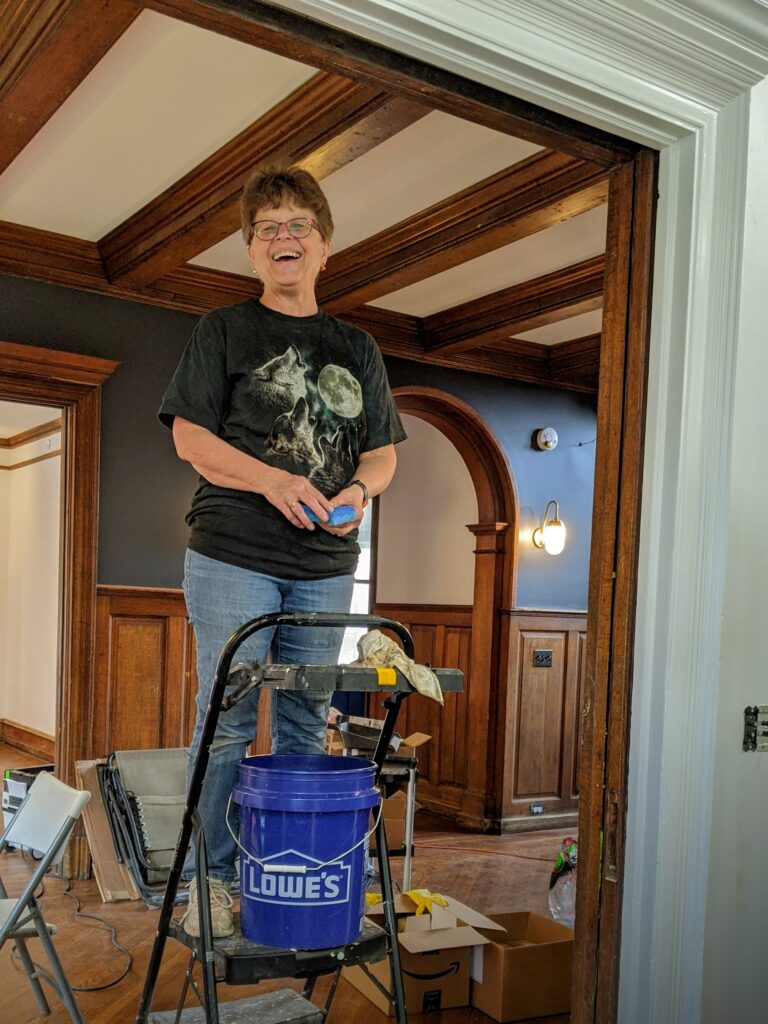 For this week's installment of Damn This Wood Is Dirty, we had Yaya on hand to help Jack out with scrubbing some wood paneling, and we've been through so much wood cleaner, we probably should have just installed a keg of it somewhere. Gum is literally being scraped off the walls, in addition to some stain and poly from the floor refinishing and a least a dozen years of college slime. Also, staples 😠.
And Some Not-So-Dirty Wood!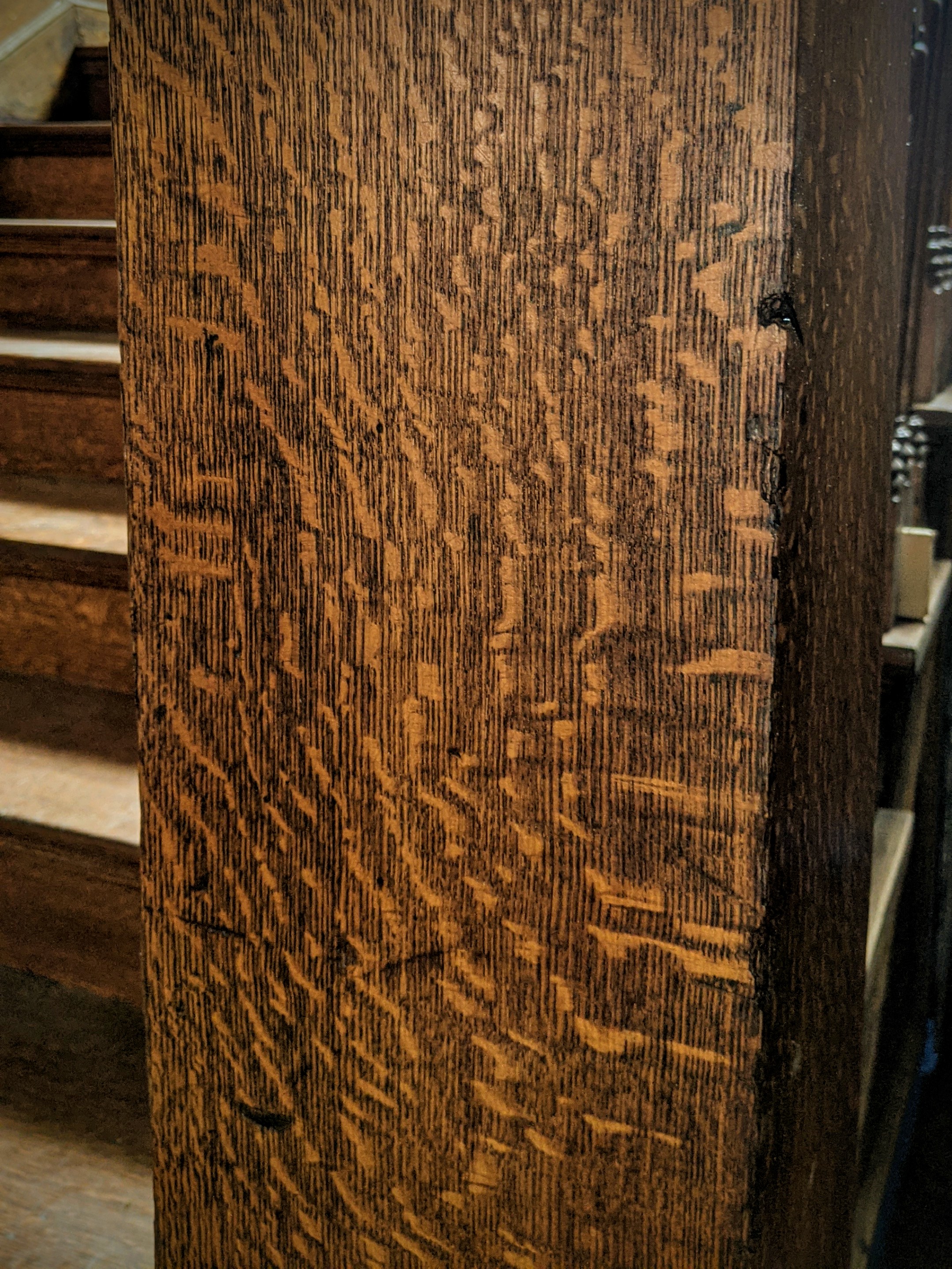 The painter should really be referred to as the Stainer at this point, since that's pretty much what we've had him focusing on the last few weeks. He's fitting us into his schedule between other jobs so things are taking a while, but hot damn, these doors sure do look good. He also got some stain and poly on one of the large stairwell columns that had been sanded down, and it is just down right gorgeous. The whole thing is a 10′ testament to why anybody ever decided that quarter-sewn oak should be thing. It's like a tiger and a tree made a baby, and she's beautiful and lives in our dining room now. Me-ow.
Did We Mention The Sunroom?
This teeny tiny temple was mostly wrapped up a week ago, with just some cleaning and paint left to finish her off. We decided to close up the room temporarily with plexiglass windows for the time being, and we'll swap that out for custom window sashes later on. The Stainer (!) jazzed up our secret used-to-be-closet-doors "French door" situation with stain to match the rest of the woodwork, and it is just such a pretty little view right now seeing the neighbor's tree in bloom all the way from the kitchen island.
Necessary(-ish) Things This Week
What's Next…
We're completely taking advantage of Yaya's urge to clean by keeping her in the house as much as possible with a vacuum and some cleaning supplies nearby. She even cleaned the toilet this weekend, which was "well loved" by a dozen or so different contractors over the last nine-ish months. Thank God for Yayas.
The floors are going to get freshened up with one final round of poly, since they've taken quite a beating already and were also weak in a few areas from oversanding. Andrew is back supporting the floor from underneath in the basement (since there is no subfloor) to help keep us from busting through the floor a la The Money Pit.
We're waiting on just a couple of light fixtures to come in and should have them installed in a few days. After that, it should be just one more round of "Does This Light Switch Work?" later this week before we're ready for the inspector to pass through, at least on the electrical front.
Since both we and the Painter/Stainer are short on time, we're probably going to forgo some paint and just keep a couple of rooms primed for now so that the wall fixtures can be in place for inspections. This has given Jack more time to daydream about the space, which inevitably means she's already dreamed up some interesting (read: time-consuming) new plans for those walls anyway. Stay tuned for more nonsense.
A little bit of this, a little bit of that…basically all the million little things on our punch list that are lingering before we can have the inspector pass through will be handled over the next week or two. We're going to be doing our absolute damnedest to get whatever stamps we need ASAP so that we can start to set up a few things before we move in large furniture, housewares, and humans.