What's Up This Week: Instagram Chose a Winner, Frat Pledges are Hard Workers, and Charles Dickens Probably Built Our House (Or Something Like That)
We've got holidays out the wazoo going on over here, and if there was ever a house built for Christmas decorations, it's this is old broad right here.
Traditions à la Delta Rho
In honor of the holiday season, we asked all you Instagrammers for submissions and held a poll to decide the best Kappa-Sigma era annual tradition. Some of the suggestions were things we'd heard about before, e.g. the annual haunted house; some were new to use, like the Carnation Ceremony where new pledges would introduce the newest members of their sister sorority, Chi Omega (think prom-meets-debutante ball, complete with an escort down the grand staircase and, we assume, actual carnations).
There were also a handful of submissions that literally make no sense to us, although we're sure they meant a great deal to those inebriated individuals at the time. We know that hay, blue whales, and an Otis were all involved to some capacity, but that's about it (which is probably just the right amount for us to know anyway).
After a series of polls, the top two contenders both involved an obscene amount of free labor from the pledges: the Bahama Mama party, which included a basement full of sand, and the Winter Wonderland party, where they instead filled the space with packing peanuts and lined the walls in foil. (Keep in mind, in addition to bringing all of this stuff in, they also had to get it all back out).
The voting was so close that for a minute there, we really weren't sure if we were going to be able to declare a winner. This thing was neck-and-neck for hours, but in the end, Winter Wonderland pulled through by the length of about one packing peanut, and will hereby be considered the Greatest Tradition of All (Kappa Sigma Standard) Time.
Well done to all those who worked endlessly to ensure the walls were shiny, the shot luges were icy, and the styrofoam was a-plenty.
Basement Before & After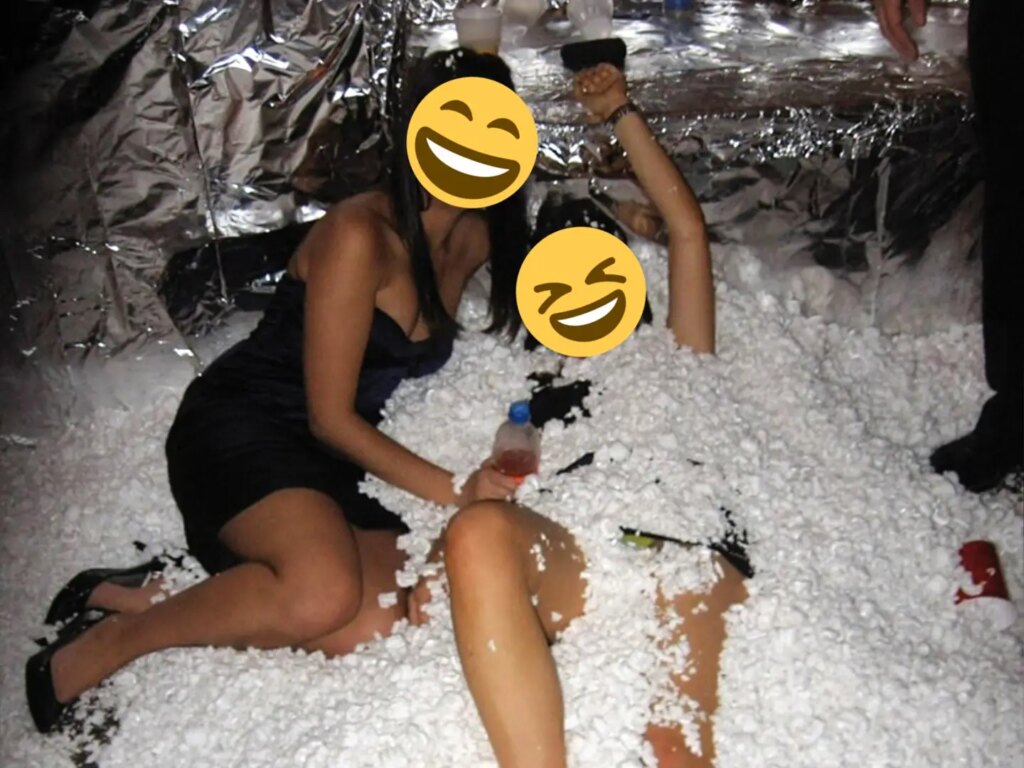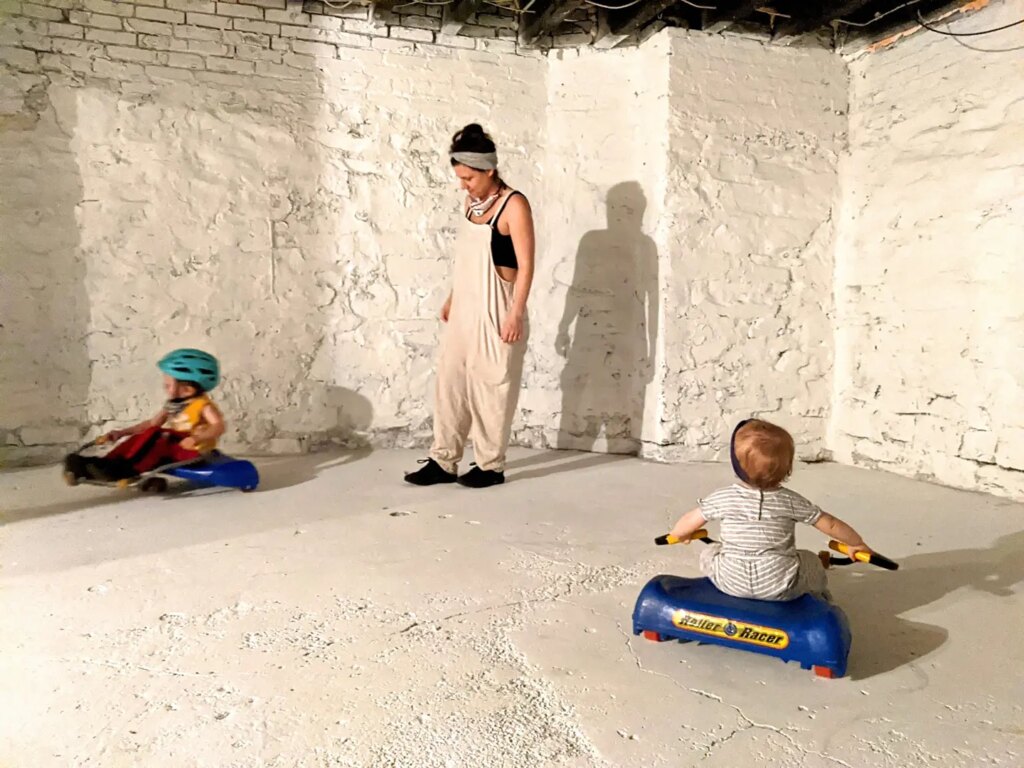 Decking the Halls Dickens-Style
Jim has been working a ton and Jack is a full-time milkmaid these days, but we managed to carve out a little time (with a little help from our friends) to deck these halls and we must say, it was WELL worth the effort.
We weren't sure how well the holiday décor we brought over from our old house would work here at Charlotte House since the new place is much more ornate and architecturally "formal" than our previous digs, but we were pleasantly surprised at how it all turned out.
It looks straight up like A Christmas Carol in here, and it feels like we're just waiting for the Ghost of Christmas Past to show up and bring us to a basement full of packing peanuts and cheap beer.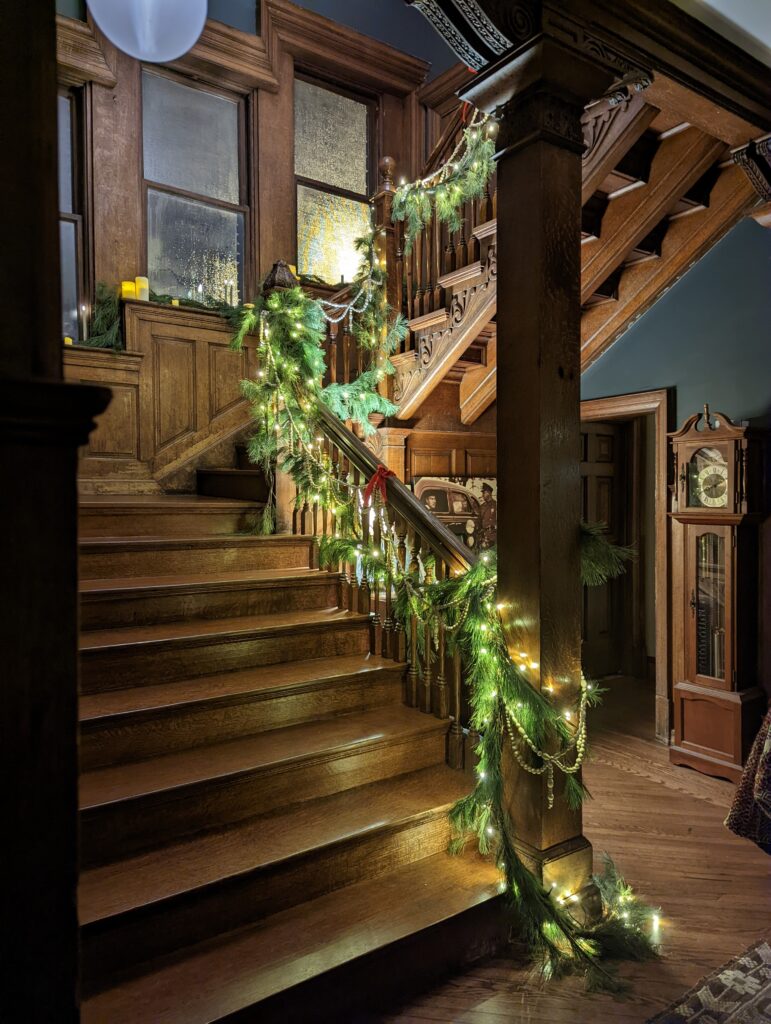 Fictional Christmas spirits aside, the key to a Dickens-level home seems to be loads and loads of greenery. We'd prefer the fake stuff so it won't shed everywhere, and we could use it year after year. But unless Santa sends us a great clearance sale, nothing Jack likes is anywhere within budget, so live pine garland this year it is.
It looks (and smells!) pretty spectacular, if we do say so ourselves, although there is SO MUCH MORE Jack wants to decorate in here. Every doorway feels like it could be a show-stopper, and it's clear it will take us a few years of decoration accumulation to make the real magic happen.
But we made it NICE, and now that the fireplace is up and running, it truly does feel like a Victorian-era Christmas pageant up in here.
Check out our Reel on Instagram or Facebook for a dramatic tour.
Necessary(-ish) Things This Week

Natural Wood Garland – this stuff keeps going out of stock and the price changes, but they are prettyyyyyy (and we were able to use them for fall decor, too. Double duty decor = Yes, please.
Artificial Tree – Tall and skinny to fit next to the fireplace; this will be a secondary tree only for decoration, however it's been stuck in the shipping matrix and we're not sure if it will get here before Christmas! We'll keep you posted, but this is the link to the one we ordered.
Fireplace Screen – Jim was very eager to start using the fireplace this season. We picked this screen because of the double doors, which means we don't need to remove it to add more wood to the fire 👍
REAL TALK: We tend to go a little overboard when choosing items to buy for our home and family – we want things that function well, look good, and fit within a given budget. Everything must check AT LEAST two of those boxes, but ideally we'll hit all three. This usually means that we spend WAY too much time researching and reading reviews, but whatevs – our obsession is your gain, right?
When you click on one of our website links or a link from our social media, we may receive a small affiliate commission from the seller as a thanks for sending you to the good stuff. It won't cost you a penny more, and we're only going to recommend things that we really use or love. Doing so helps us offset the cost of dedicating a ridiculous amount of time finding the very best stuff, so THANK YOU for taking a look at what we share with you online – Clearly you have excellent taste 😉