Spilling the Tea on our Tea Spot
I don't know about you, but we can't seem to escape the constant stream of viruses going around this winter. With five kids, we know we're going to have a lot of germs and bugs come through the house, but this year has been the doozy of all doozies for Charlotte House.
Now that the kids are crawling out of a sea of stuffy noses and gunky coughs, I thought about how nice it feels to have a quaint little corner carved out for making a cup of tea, especially when it's the middle of the night and you realize that now you're the one who's stuffed up, and if you could just sleep you'd feel better, but you're so congested that you're stuck down here making a damn cup of tea.
I've certainly earned a good night's rest after a few overnighters with sick babies. But since sleep requires breathing, which is a thing I currently can not do, I figured I'd share our charming little tea spot with you instead. Charming.
Full disclosure: Tea's great and all, but this is an equal opportunity drink station where we assemble all things drinkable (e.g.: coffee, cocktails, chocolate milk). But for now I'm just giving you the tea on… our tea.
Black countertop appliances are our jam. They blend into the background with our dark soapstone countertops, and if we can find a matte finish like this one, it's even better. I like an unfussy visual, so I try to stay away from shiny items that catch the light and therefore, your eye.
This kettle is probably a little larger than we need, but it's got a few details I love:
Stainless steel interior, so it doesn't leach plastics or get moldy, plus it's easy to clean
Large size is good for making multiple cups for tea-moochers like children or grandmas, or for a big pot of tea to ice later (looking at you, peppermint)
Clean aesthetic with minimal markings or buttons. Again, don't bother my eyes please.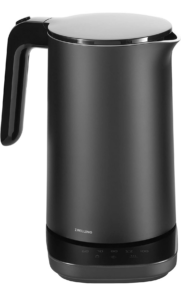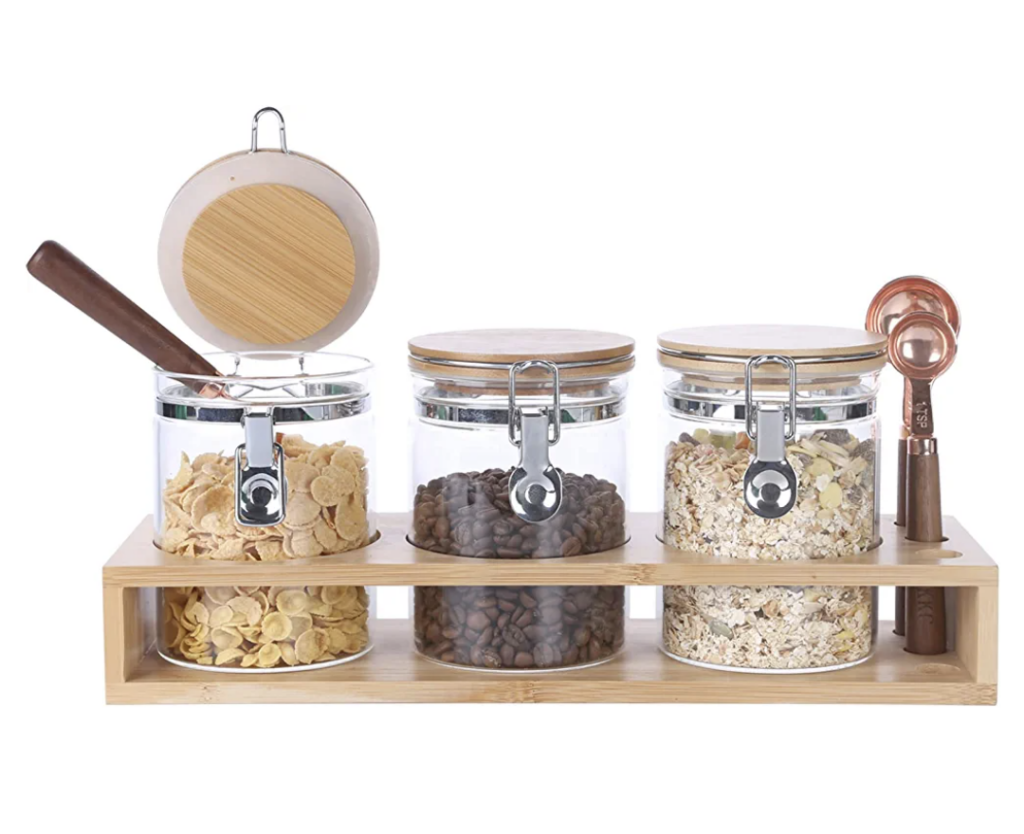 I love swapping paper & plastic packaging for a pretty container. We're also lazy people, so I like keeping our drink add-ins and ingredients handy, otherwise I'd never use them or put them away. This style comes in several different sizes, and I like how the wood rack gives everything a "home," adds a little warmth, and plays back to the wood from the kitchen island.
Unless your husband leaves it where the toddler can get it, Borosilicate is less fragile than regular glass, and won't retain odors or get cloudy like acrylic or plastic
There are a variety of canister sizes to choose from to suit your needs, plus two different spoon color options. We went with the rose gold since its warmer tone goes better with our burnished brass cabinet hardware
Each canister has a silicone seal to keep your goodies so fresh and so clean, clean
In addition to being nice to look at, these mugs are my favorite because they keep my drink hot (or cold!) without burning my hand or "sweating" on the outside.
Some double-walled mugs can be quite fragile (see above, re: toddlers), but we've had this brand for a few years and have been really happy with their durability.
From, from espresso shots to jumbo mugs, you can make a lot of different drinks and still have a clean, uniform look on the shelf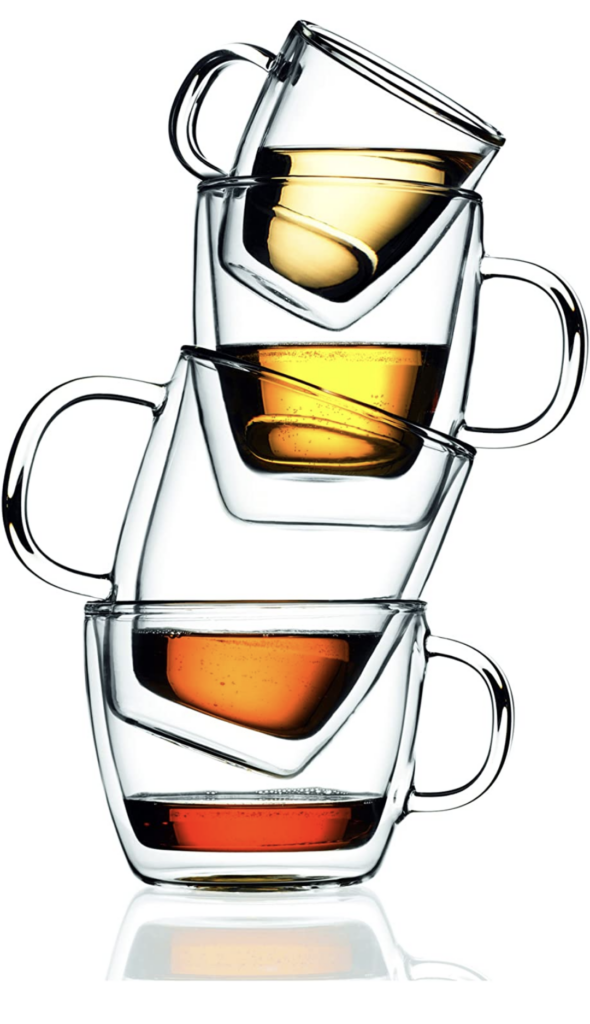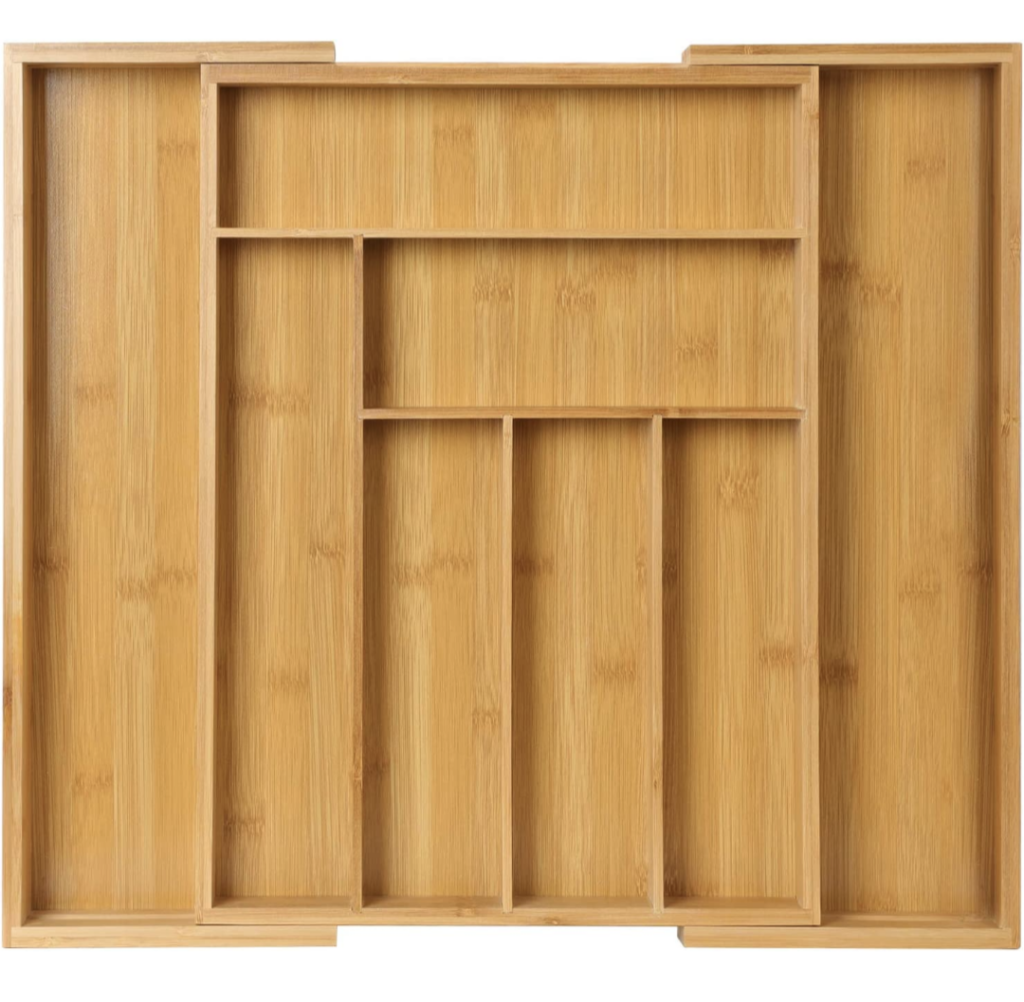 I run more "hippie" and less "English" with my tea, so I like to keep a few different blends around for their medicinal purposes (medicinal, as in turmeric for inflammation, not Mary Jane for "elevation").
Tea boxes are great if you have the space and use them a lot, but I wanted to keep our options tucked away.
This organizer is technically for utensils, but it was one of the only ones that was short enough to fit the shallow drawer from our reclaimed kitchen cabinets. I'll use whatever works, not what something is "made" for
I will generally choose wood or metal over plastic because I'm bougie like that, and this one is also expandable.
Tap the + icons in the image below below for a direct link to each item
**commissionable links**
What's In All Those Containers?
Like a dummy, I tried to cut back on caffeine. This find was a positive byproduct of that effort
Great for making two babies simultaneously, also tasteless & dissolves better than most others
Like a cinnamon-y chai, soooo good with a little milk & some honey
True story: if your turmeric tea doesn't have black pepper, get a new one